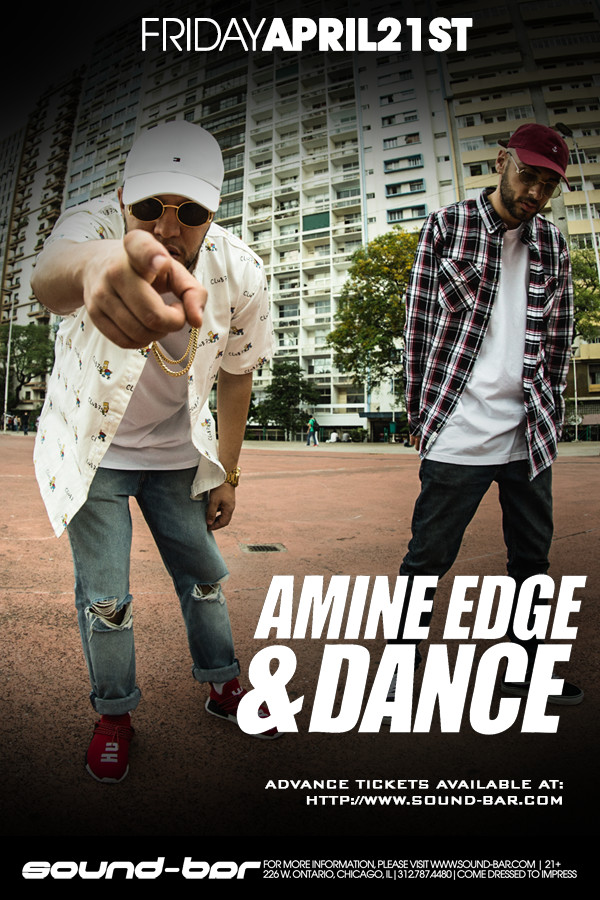 Amine Edge & Dance
:: Fri, Apr 21 ::
Table Reservations
View Floorplan
RSVP
Buy Tickets
---
*Note: All reservations must be received prior to doors opening on day of the event to ensure response time. Limited availability.
---
*Note: All guest list must be received by 8:30pm day of the event.
---
Friday, April 21st
Sound-Bar is proud to welcome, Cuff label bosses, and G-House pioneers, Amine Edge & Dance!
Cover is $20. Advance tickets are strongly encouraged and available at https://goo.gl/4A3CDb
RSVP for free cover before 11:30pm
Hailing from Southern France, Amine Edge & DANCE have taken the dance world by storm with their ground-breaking sound and high energy shows. Mining the musical spectrum and taking inspiration from early House, Philli Funk, 80's Hip-House and everything in between, Amine Edge & DANCE bring their own cross-genre blend of Tech and House to clubs and festivals across the globe. Having enjoyed a meteoric rise, the CUFF label bosses have now cemented themselves as the leaders of their genre and the go-to guys for the best dressed parties in town!
Not content with just being superstar DJs, the duo are also skilled producers and can regularly be found riding high in the the top charts. Their undeniable ear for a catchy hook and a knack of crafting moody, future-facing club edits is evident in their versions of Frank Ocean's 'Lost' and the Notorious B.I.G-sampling 'Going To Heaven With The Goodie-Goodies' – two tracks that show the breadth of their musical influences and their biggest 'hands-in-the-air' hits to date.
With a slew of new releases being lined up and their label, CUFF – a collective of artists much more talented than most – going from strength to strength and making its mark as a musical movement all of its own, 2016 promises to be the biggest year yet for the best mates from Marseille and the year when their own brand of Hip-Hop influenced bass heavy House will dominate the sound of the best parties in the biggest cities across the globe.