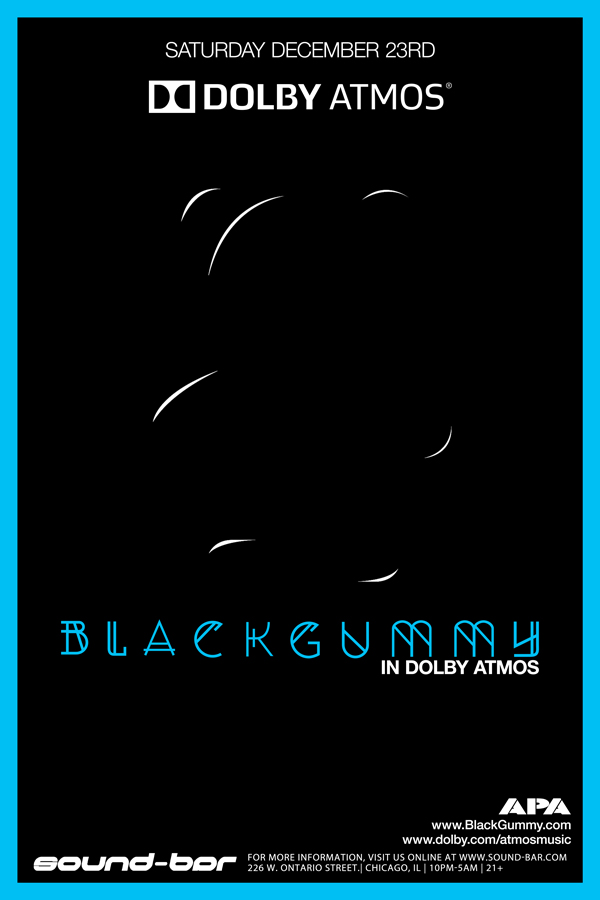 BlackGummy in Dolby ATMOS
:: Sat, Dec 23 ::
Table Reservations
View Floorplan
RSVP
Buy Tickets
---
*Note: All reservations must be received prior to doors opening on day of the event to ensure response time. Limited availability.
---
*Note: All guest list must be received by 8:30pm day of the event.
---
Saturday December 23rd
Sound-Bar presents Mau5trap recording artist, BlackGummy in Dolby ATMOS!
Door cover is $20. Advance tickets are strongly recommended and available at https://goo.gl/r6g8vA
RSVP for free admission before 11:30pm
BlackGummy began as the brainchild of Los Angeles-based electronic music producer Iman Marouf. Marouf discovered the entity called "BlackGummy" in 2013 during a trip to the Middle East and Asia, and instantly formed a unique and inseparable bond with the alien-like idol. Since their first meeting, the producer and the entity have virtually conjoined into an indivisible whole, never leaving one another's side.
Trained by Steve Duda, the legendary sound engineer and creator of the Serum VST, BlackGummy consistently showcases his unique prowess for employing a wide variety of entirely original sounds in his songs. BlackGummy and Duda. In fact, BlackGummy – real name Iman Marouf – was asked to beta test the Serum VST for Duda.
BlackGummy has an obsessive fascination for sound design and music production. He views his productions as checkpoints in a tireless quest to improve his mastery of this skill, routinely spending 15 hours a day honing his craft. In 2015, mau5trap discovered BlackGummy, and immediately recognized his unique prowess for production and sound design. Later that year, the label released BlackGummy's first original — "Lullaby" — on mau5trap's We Are Friends Vol. 4 compilation, which Earmilk called a "can't miss."
In February 2016, mau5trap released BlackGummy's debut EP titled "Singularity," inspired by the concept of "technological singularity" – the idea that artificial intelligence will one day surpass human intelligence. Dancing Astronaut praised as the EP as "an intriguing artistic vision," which "moves uninhibited from dark industrial to uplifting progressive, challenging the notion that producing one style necessitates ignoring the other." BlackGummy counts deadmau5, Eric Prydz, Feed Me, Gesaffelstein, Brodinski, Knife Party and System of a Down among his chief musical influences.
Following up with the unsettlingly cinematic "Neverdeader" on mau5trap's We Are Friends Vol. 5 Compilation, BlackGummy dropped the 2nd EP of his mau5trap trilogy, Impactor, which […] "takes on the KT Extinction. You remember it as the asteroid that killed the dinosaurs and ultimately three-quarters of the Earth's living beings. The asteroid caused a lot of death and destruction, but it also lead to evolution by the species that managed to survive," he says. "It wasn't just the asteroid that killed them, but also the effect the impact had on the Earths' atmosphere, creating a condition which only specific species could survive."-Billboard
Since the implicit convergence of the producer's and idol's identities into one amalgam, BlackGummy spends almost all of his time locked away, with the idol, in his in-home studio, crafting new productions that attempt to lend a voice to the silent idol. He only withdraws from his studio in rare instances: first, to perform alongside the idol in nightclubs and music venues, and second, to search the four-corners of the Earth for more clues as to the idol's origins. His fascination with the latter arose from a Latin inscription that lay emblazoned beside the idol when he first discovered it.
The quote read, "In perpetuum, salutem in omnibus locis; In omni loco, in omni tempore."