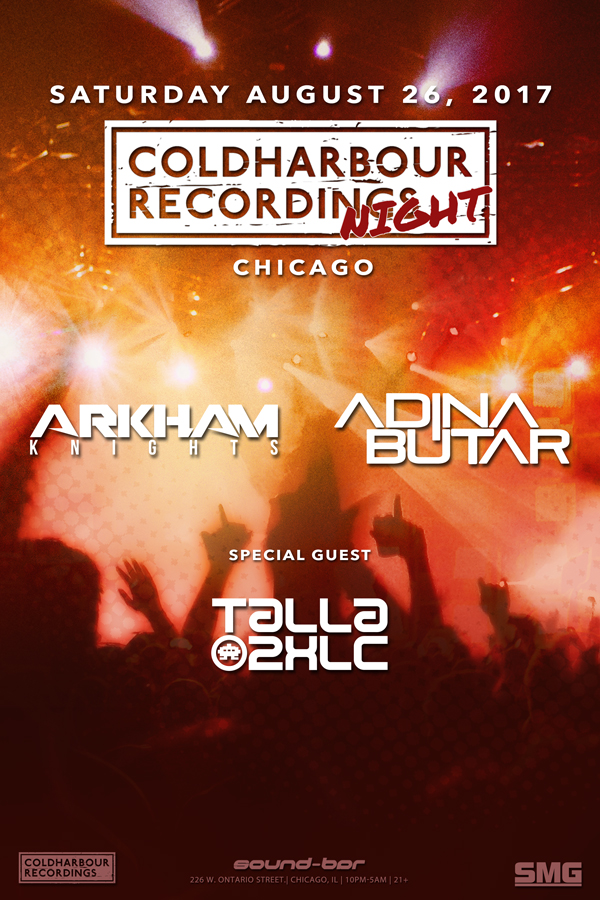 Coldharbor Recordings Night w/ Arkham Knights, Adina Butar, and Talla 2XLC
:: Sat, Aug 26 ::
Table Reservations
View Floorplan
RSVP
---
*Note: All reservations must be received prior to doors opening on day of the event to ensure response time. Limited availability.
---
*Note: All guest list must be received by 8:30pm day of the event.
---
Saturday August 26th!
Sound-Bar and Coldharbour Recordings bring you Arkham Knights, Adina Butar, and legendary trance artist, Talla 2XLC!
Door cover is $20. Advance tickets are strongly encouraged and available at https://goo.gl/UKFPaU. RSVP for free admission before 11:30pm
ARKHAM KNIGHTS
Exploding out of Leeds, United Kingdom, Arkham Knights gained the attention of dark, progressive trance lovers everywhere. After entering the scene a year ago, the Turner brothers made their mark with intense techno fused trance that delivers a progressive punch. Their productions are powered by driving percussions, rumbling bass-lines and infectious melodies that is a perfect synergy of uplifting beauty and passionate aggression that makes you want to clinch your fist and scream out your allegiance to these new heroes.
After freshmen hits like "Blackgate", DJs were quick on the trigger as they spun music by Arkham Knights in their sets. Other heavy hitting tracks such as "Tomorrow's World" and "Jedi" were notches on their belt of success. Markus Schulz is also a witness to their achievements as their massive hit "Knightfall" was snapped up by their dream label Coldharbour Recordings. After it was featured on the Global DJ Broadcast radio show, the track rapidly became a fan-favorite for all the trance warriors battling the good fight on dance floors and in festivals worldwide.
The success of "Knightfall" is benchedmark as their first Top 10 track in the Beatport Trance Chart as it reached the #3 spot. This massive hit proves that Arkham Knights can hold their own with the greats as "Knightfall" is featured in the iconic Ministry of Sound compilation: Trance Nation, which is mixed by the Coldharbour Recordings label boss himself.
As the battle continues by DJs throughout the world, the Turner brothers are going to be strong players in that battle as we fall victim to their might on their path to be the best. Arkham Knights will continue to evolve as they join the Coldharbour Recordings family. Be sure to catch their weekly radio show, Arkham Knights Presents: Arkham Afterhours, for new music that's incorporates the deep and progressive side trance that is sure to make you groove. There's no losing steam for these two as more and exciting releases and news are on the way…
ADINA BUTAR
Romanian stunner Adina Butar has been catapulted into the EDM spotlight since recently joining Schulz Music Group (SMG) as their first female vocalist/ songwriter. Markus Schulz first introduced Adina to the world at A State of Trance 550 in Den Bosch and this became the start of her exciting career with SMG.
TALLA 2XLC
He is also recognized for starting one of the first ever all electronic music dance clubs in the world, "Technoclub", which is accredited to launching the careers of some of today's biggest names. He has worked along side, and shared the stage with almost every possible name you can think of in Trance music, and continues to reinvent himself, time and time again.
His legendary Technoclub brand (1984) is considered by many to be the world's first major super-club, and this was also where Trance Music first got it's home. Artists such as Sven Väth, Paul Van Dyk, Carl Cox, Laurent Garnier, Tiësto, Jam & Spoon and Taucher all made their mark here at Talla's 'Technoclub', long before the term 'world tour' was used in the same sentence as a DJ. From 1989-2000 Technoclub was located in the legendary Dorian Gray (R.I.P) located inside the Frankfurt international Airport.
The birth of Technoclub also spawned into one of the longest standing dance CD Compilations, which also established Talla as a leading force in the international dance community. Renowned as the ultimate head to head DJ competition, Talla has invited some of the most cutting edge, international superstars to join him in battle.