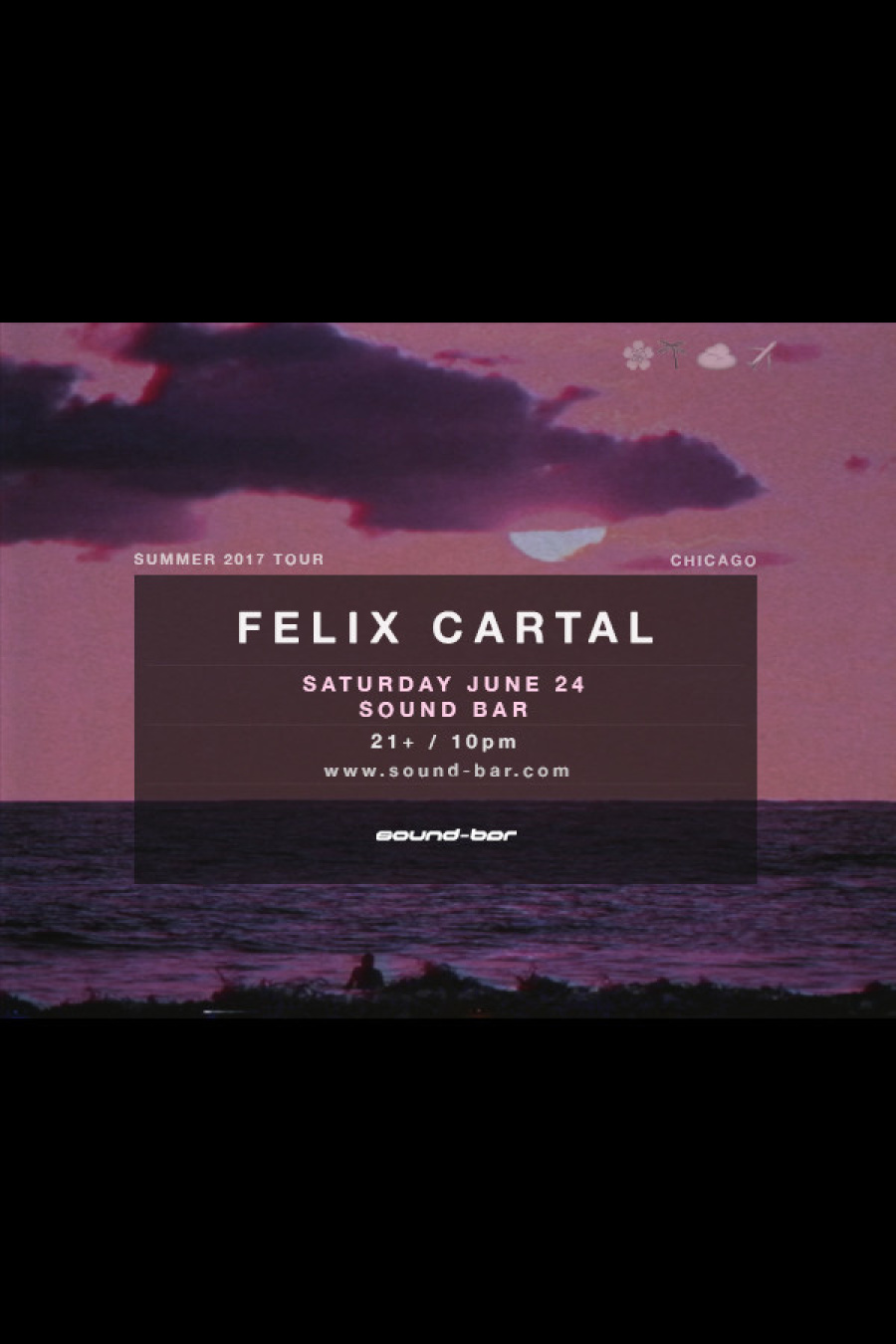 Felix Cartal
:: Sat, Jun 24 ::
Table Reservations
View Floorplan
RSVP
---
*Note: All reservations must be received prior to doors opening on day of the event to ensure response time. Limited availability.
---
*Note: All guest list must be received by 8:30pm day of the event.
---
Saturday June 24th!
Sound-Bar welcomes Felix Cartal in his Sound-Bar debut!
Door cover is $20, advance tickets are strongly encouraged and available at https://goo.gl/EWFAYQ. RSVP for free cover before 11:30pm
Associated with Dim Mak Records, Felix Cartal is a Canadian electro-house producer who creates buzzing, energetic dance tracks aimed squarely at the dancefloor, but he also has a soft, sentimental side, as evidenced by the many love-themed songs he's recorded with female vocalists. Cartal fuses his punk roots with his love for club culture, enlisting guest vocalists from bands such as Death from Above 1979 and the Blood Brothers for his tracks. Hailing from Vancouver, British Columbia, Canada, he initially established himself with remixes of Moving Units' "Crash 'n' Burn Victims" and Dragonette's "Take It Like a Man" in 2007, not to mention unofficial remixes of MSTRKRFT, Britney Spears, Ashlee Simpson, and others that circulated in the music blogosphere. Steve Aoki signed Cartal to Dim Mak in 2009 and released his debut EP, Skeleton, in May of that year. Later that same year he was featured on the label sampler Dim Mak Dance Compilation, Vol. 1: Evolution.
Cartal made his full-length album debut the following year with Popular Music. "Volcano," featuring vocals by Johnny Whitney of the Blood Brothers, was released as a single. Meanwhile, Cartal increasingly established himself as a DJ, touring the North American club and festival scenes and releasing freely downloadable mixes on the Internet. Cartal continued to release a stream of singles and EPs, often featuring guest vocalists. Second album Different Faces appeared in 2012, including the single "Tonight," featuring Maja Ivarsson of Swedish band the Sounds. Cartal began 2013 by releasing "The Alarm," a collaboration with Autoerotique, and later released an EP called Past Present Felix, in addition to remixing tracks by Zedd and Bloody Beetroots. In 2014 he released the EP Credits, as well as another collaboration with Autoerotique, "Heat." The singles "With You" (featuring Natalie Angiuli) and "Something to Live For" (featuring Nikki Yanofsky) saw release in 2015.