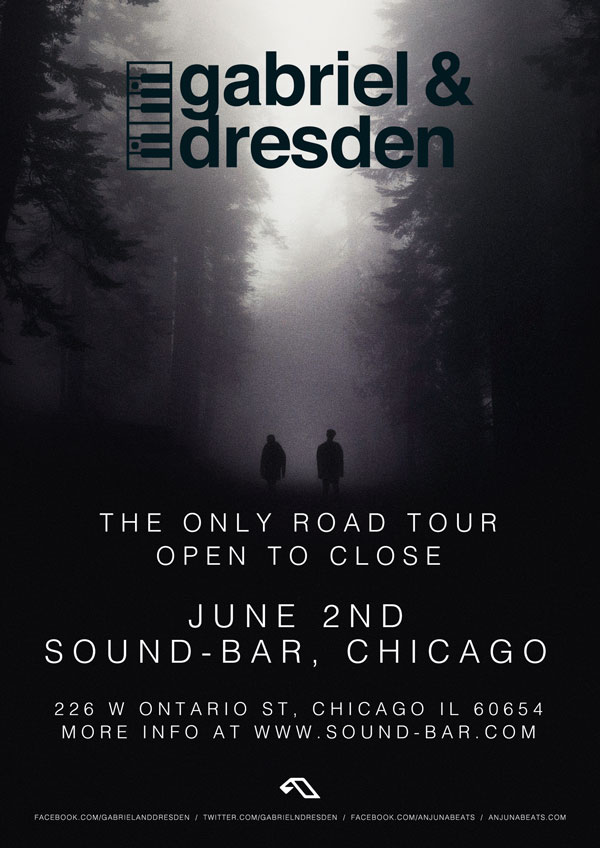 Gabriel & Dresden (Open to Close)
:: Sat, Jun 02 ::
Table Reservations
View Floorplan
RSVP
Buy Tickets
---
*Note: All reservations must be received prior to doors opening on day of the event to ensure response time. Limited availability.
---
*Note: All guest list must be received by 8:30pm day of the event.
---
Saturday June 2nd
Iconic and legendary dance music duo, Gabriel & Dresden, return for another all night long set at Sound-Bar, in support of their universally acclaimed album, The Only Road, released on Anjunabeats late last year!
Tickets are available at https://goo.gl/1dYH6V
RSVP for free admission before 11:30pm
A shared passion for music brought Gabriel & Dresden together after a chance meeting on a Miami rooftop during the Winter Music Conference in 2001. As a duo, the two fit like some kind of creative yin and yang, quickly rising to the top of the electronic music genre and winning the coveted "Best American DJ" prize twice by the International Dance Music Awards (IDMAs) as well as creating a dominating string of timeless hit songs and remixes in the studio.
Conjuring an artful amalgam of trance, techno, house and pop that transformed the landscape of 21st century EDM; Josh Gabriel, with his formal training in music composition from California Institute for the Arts and the Netherlands' Institute of Sonology, and Dave Dresden, with an esteemed club DJ career that included work as a Billboard club chart reporter, music director for a prominent online radio station, and a curator for the legendary Pete Tong's Essential Selection, struck a genuine synergy that captivated listeners around the world.
Their smash hit in spin-off project Motorcycle, "As the Rush Comes", topped Billboard's "Hot Dance Airplay" 2004 year-end chart and landed at #11 in the UK Singles Chart. Their compilation, Bloom turned heads globally, while their self-titled artist album that featured "Tracking Treasure Down" (with vocalist Molly Bancroft) and "Dangerous Power" (featuring Jan Burton) both screamed into the #1 slot onto Billboard's Hot Dance Club Songs chart, solidifying their status as leaders. Everybody from Britney Spears and Madonna to Annie Lennox, Sarah McLachlan, Tiësto and Above & Beyond sought them out for official remixes, while the likes of FX and Rockstar Games licensed their music to enhance their visual narratives.
After a three year hiatus that officially ended in 2011, the two embarked on an exhaustive reunion tour; playing high-profile global festivals like EDC, Creamfields, Tomorrowland, Electric Zoo, Spring Awakening, Sunburn Festival as well as club dates in over 20 countries around the world.
Despite the envelopment of EDM in popular culture, the two are sticking to their guns and following their most innate impulses. "It is always about being timeless," affirms Dresden. "We don't pay much attention to trends. We choose sounds and words that we feel will mean something to a lot of people and at the same time, make them put their hands in the air." Gabriel concludes. "We want everyone to be able share that experience with us."