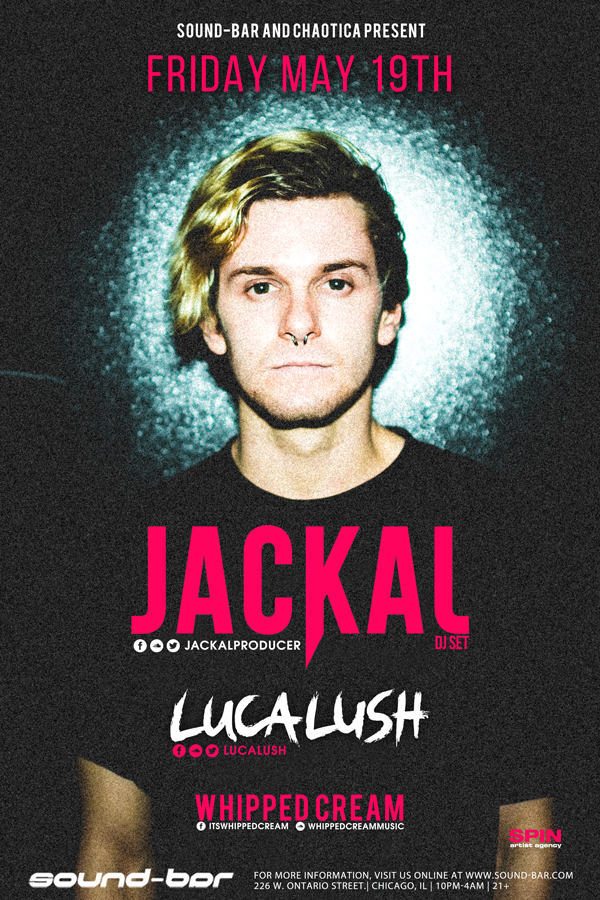 Jackal | Luca Lush | Whipped Cream
:: Fri, May 19 ::
Table Reservations
View Floorplan
RSVP
Buy Tickets
---
*Note: All reservations must be received prior to doors opening on day of the event to ensure response time. Limited availability.
---
*Note: All guest list must be received by 8:30pm day of the event.
---
Friday, May 19th
Sound-Bar and Chaotica are proud to present JACKAL (dj set), with support from Luca Lush and Whipped Cream.
Cover is $20. RSVP for free admission before 11:30pm. Advance tickets are strongly encouraged and available at https://goo.gl/n1fz6u
Mikey Pennington, best known by his artist name Jackal, is a 23 year-old music producer and DJ. Originally from England, Jackal started producing when he was 19 while attending the University of Canterbury. From a young age Jackal has been musically inclined, learning to play guitar, drums and making beats on his keyboard at the age of 7. Since the release of his track "Shakedown," Jackal's presence in electronic dance music has quickly risen and continues to make an impression, his beats often finding their way into the sets of artists from Skrillex to Diplo. His tracks have also been remixed by artists such as LOUDPVCK and Jesse Slayter. Look for his upcoming release with Grandtheft on Diplo's Mad Decent!