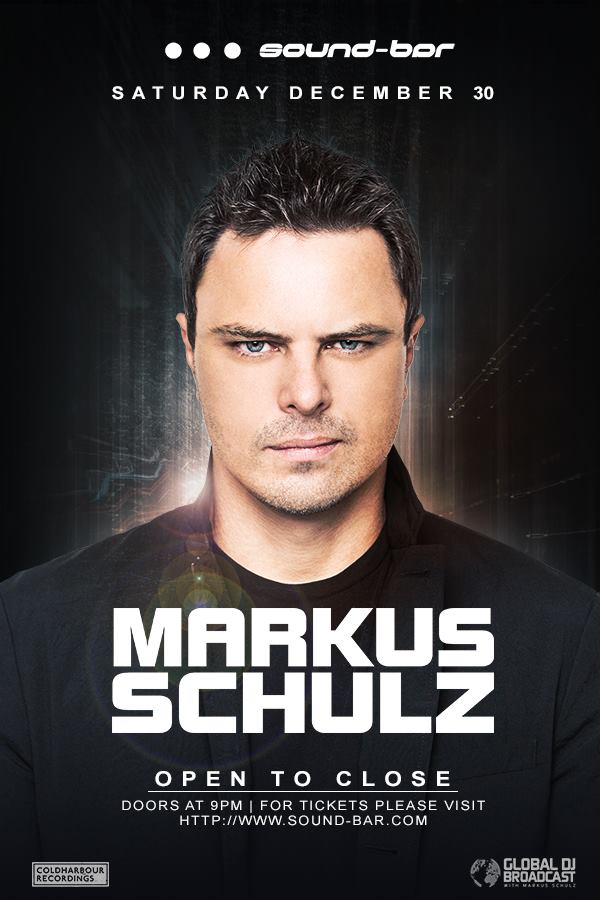 Markus Schulz (Open To Close)
:: Sat, Dec 30 ::
Table Reservations
View Floorplan
Buy Tickets
---
*Note: All reservations must be received prior to doors opening on day of the event to ensure response time. Limited availability.
---
*Note: All guest list must be received by 8:30pm day of the event.
---
Sound-Bar and Trancemission presents, another trip down the rabbit hole, with an open to close, 7+ hour set from the master, Markus Schulz!
Doors open at 9pm.
Door cover is $30. Advance tickets are VERY strongly encouraged and available at https://goo.gl/yzvfJT
Forged in the fires of Arizona's seminal 90s rave scene, Schulz first went state, then with equal speed national and international. From the building blocks of progressive, trance & house, he crafted early anthems like 'The New World' and latter-day ones like 'Destiny'. Caught between have been a half-dozen revered albums (most recently 'Watch The World'), a convoy of club hits and thousands of transfixing performances, played out before untold millions. He's helmed the scene-essential Coldharbour label for 11 years, chaired the Global DJ Broadcast radio show for 15 and remixed everyone from Moroder to Madonna.
His floor-bound adventures have met with equal acclaim. Through his effortless audience affinity, flawless mixing, instinctive tune selection and now famous, stylistically vast open-till-close sets, he has wowed crowds in every major city on Earth. Markus has scaled the upper reaches of the world's DJ rankings and charts; is a two-time winner of DJ Times' America's Best DJ crown and has drawn acclaim from every electronic music portal & press outlet on the planet. A regular fixture at the world's biggest & most famous clubs, arenas and festival stages, weekly, he lays down his inimitable musical vision. In Europe, he's floored audiences at events like Transmission, Electronic Family, Nature One and Dance Valley. He's creamed Creamfields; gridlocked Global Gatherings and hosted his own stage at Tomorrowland. Stateside, EDC, Ultra, Nocturnal and numerous others have similarly all felt Schulz pressure. His legendary open-till-close sets, at spots like Space, Miami, LA's Avalon, Stereo, Montreal, Amnesia, Ibiza and his International Residency at Ministry Of Sound have become rites of passage for music lovers around the world.
His most recent album 'Watch The World' (his sixth) included the Beatport #1 hit 'Destiny' and 'Facedown', his boundary-breaking team-up with Romanian quartet Soundland. Both stylistically and artistically, the album was a significant departure for Schulz. With more of a radio edge, it saw Markus take a lead role in its song writing process for the first time. A commercial and critical hit, 'WTW' reached the #1 position on iTunes' international dance chart. The UK's DJ Mag described it as "ambitious", "expeditionary", and "content-wise, for someone from his 'bloc', without precedent". Giving it their Album of the Month accolade, MIXMAG called it "a work of art". Dancing Astronaut saluted 'Watch The World's "meaningful lyrics played out with live instruments", "that captured his (Markus') authenticity as an artist". Hailing its "impressive vocalists", YourEDM.com summed it up simply as "a monumental release".