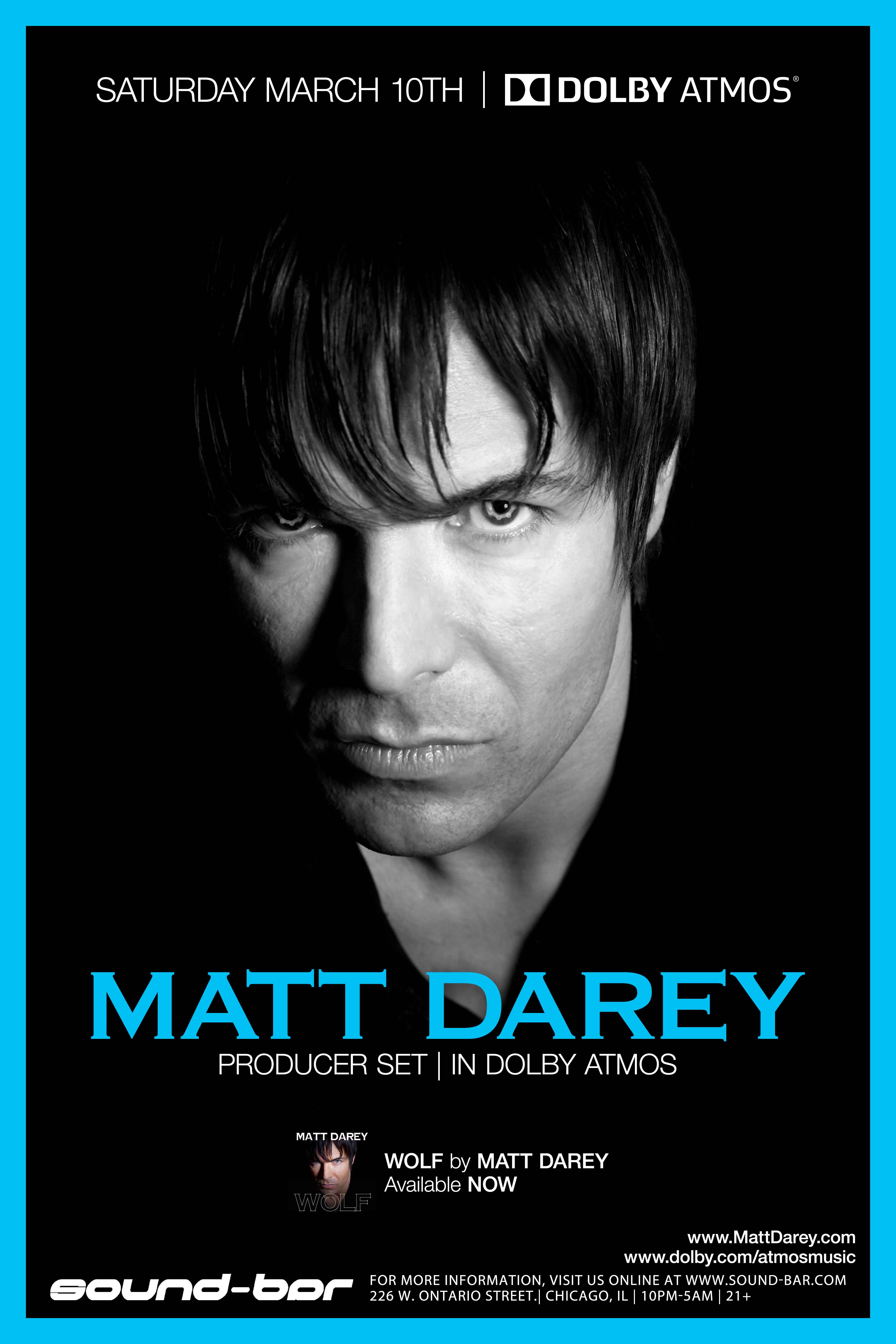 Matt Darey (Producer Set) in Dolby ATMOS
:: Sat, Mar 10 ::
Table Reservations
View Floorplan
RSVP
Buy Tickets
---
*Note: All reservations must be received prior to doors opening on day of the event to ensure response time. Limited availability.
---
*Note: All guest list must be received by 8:30pm day of the event.
---
Saturday, March 10th!
Sound-Bar and Trancemission are proud to present, in his first US show in over 5 years, Matt Darey!
Matt Darey will be performing a producer set, in full 3D Dolby ATMOS sound, including his newest artist album, WOLF, created specifically for ATMOS format!
Door admission is $20. Advance tickets are strongly encouraged and available at https://goo.gl/PwfJrK. VIP/table reservations can be made through aj@sound-bar.com
RSVP for free admission before 11:30pm
Matt Darey is a producer of many genres of electronic music with writing, producing and remixing both underground club tracks and the occasional top 10 pop chart hit. Kicking off his career he pioneered the Trance genre 1994 with tracks like "Point Zero" and "Gamemaster". Alongside his electronic club sounds, producing more epic soundscapes like "Red Skin" for video games and movie soundtracks. I guess you can talk about music but best you just check it out for yourself https://soundcloud.com/mattdarey Through the 90's Matt wrote and produced numerous hits including top ten hits like "Beautiful" and other chart hits such as "Liberation" , "Game Master", "From Russia With Love". As one of the first producers to develop the "Trance" sound from 1994 to 2000, Matt remixed some of the iconic tracks of that era which crossed over into the mainstream including "Till I come" by ATB, Binary Finary's 1998, as well as chart toppers such as Gabriel's "Rise" & Moloko's "Time is now". His best selling Euphoria series sold over 3 million albums in the UK and he also launched the Nocturnal series on Koch records in the USA.
Matt continued to explore new fusions of genres with his band Urban Astronauts and released a 17 track artists album titled "Blossom & Decay" featuring tracks like "See The Sun" Also continuing to remix with remixing with US rock band 30 Seconds to Mars Up In The Air
Matt's music inspired many artists who drive the EDM scene today with many citing him as a major influence on their careers with his innovative productions. Tiesto, Above and Beyond, Armin Van Burren, Paul Oakenfold and many more all influenced at some stage of their careers by Matt's innovative productions