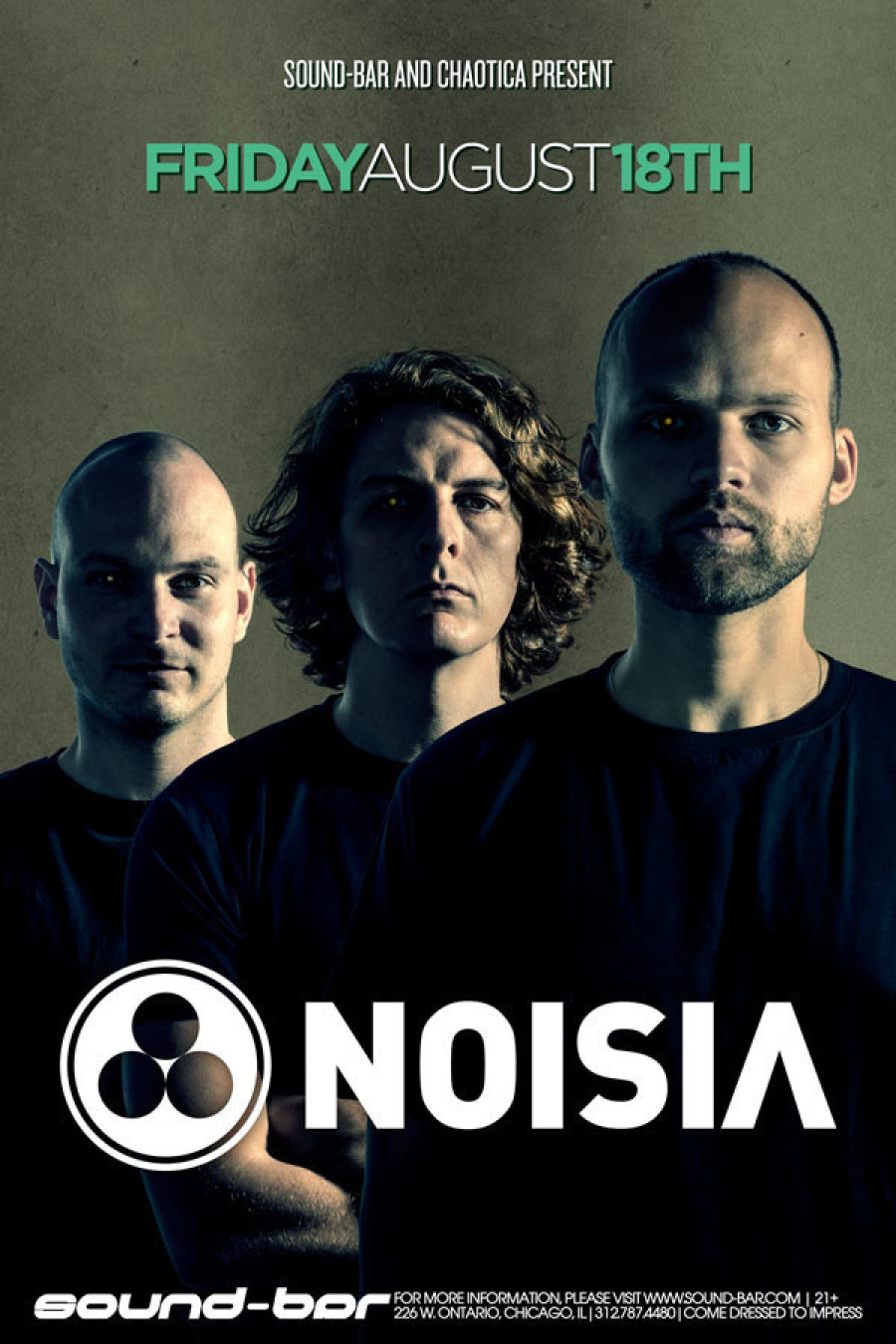 NOISIA
:: Fri, Aug 18 ::
Table Reservations
View Floorplan
RSVP
---
*Note: All reservations must be received prior to doors opening on day of the event to ensure response time. Limited availability.
---
*Note: All guest list must be received by 8:30pm day of the event.
---
Friday, August 18th!
Sound-Bar and Chaotica Present are proud to bring you the Sound-Bar debut of NOISIA and first Chicago appearance in a decade!
Advance tickets are STRONGLY encouraged for this one, and are available at http://bit.ly/SBNOISIA
RSVP for free admission before 11pm, EARLY ARRIVAL IS STRONGLY ENCOURAGED, and is subject to change.
The Vision: To explore the outer edges and capabilities of electronic musicality without compromise, to turn sound design into an art and aspire to make records that sound like no one or nothing else.
United by a shared passion for progression, technical innovation and ruthless quality control (plus large amounts of gaming, hip-hop and humour) Nik Roos, Martijn van Sonderen and Thijs de Vlieger have worked together since leaving school. Within two years of their 2003 debut release they'd already appeared on some of the most agenda-setting labels in drum & bass: Moving Shadow, Subtitles, Renegade Hardware, Shogun, Ram and many more. But even then they had no idea how successful their partnership would be.
A decade deeper: From their drum & bass roots they've proceeded to stamp all over the musical map to become one of the most established and uncompromised acts in electronic music. From their unique, custom-built floating triple-studio complex in Groningen, they've created benchmark productions, established three respected labels (Vision, Division, Invisible), remixed rave titans such as The Prodigy and Skrillex, curated their own Noisia Invites festival and scored games such as Devil May Cry and Counter Strike and music for movies such as The Man From U.N.C.L.E. and Transformers 3.