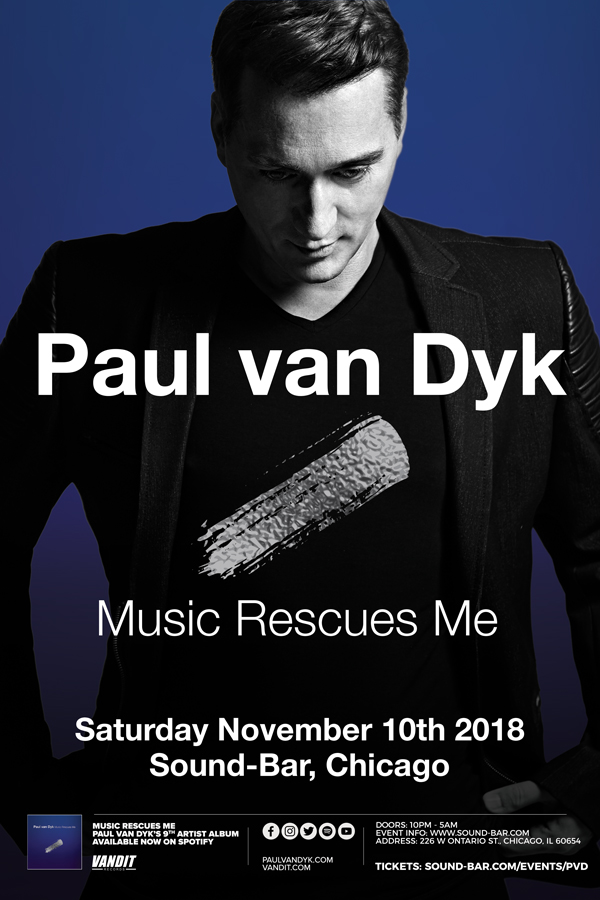 Paul Van Dyk
:: Sat, Nov 10 ::
Table Reservations
View Floorplan
Buy Tickets
---
*Note: All reservations must be received prior to doors opening on day of the event to ensure response time. Limited availability.
---
*Note: All guest list must be received by 8:30pm day of the event.
---
Sound-Bar and Trancemission are proud to welcome, legendary artist, dj, and producer, PAUL VAN DYK.
This will be a ticket only event, and tickets can be purchased at https://goo.gl/ukvmLZ
PAUL VAN DYK PRESENTS HIS 9th ARTIST ALBUM 'MUSIC RESCUES ME' IN NORTH AMERICA THIS FALL!
In behind-the-scenes production for the greater part of a year, Paul van Dyk surprise-revealed this week that a new artist album – his ninth – is inbound this autumn. Signalling a newly galvanized creative stream from the electronic music legend, it will hit October 2018 – just 12 months after his wildly successful, critically embraced comeback LP, 'From Then On'.
Arriving under the appellation 'Music Rescues Me', it will develop and expand on the theme first set by the album's vanguard (and namesake) single, a collaboration with Plumb. Part tribute to/part personal mediation on music's seemingly limitless capacity to heal, restore and lift, it's a subject that has rapt Paul to the greatest of degrees.
Allowing fans the clearest possible idea of 'Music Rescues Me', PvD unveils an 11-stop North America Tour to present the new music live and direct to the trance family.
If you want to secure yourself a ticket to experience the 'Music Rescues Me's show, now's the time to activate!
For information and tickets visit FB.com/PvD/Events
09-Nov Atlanta, GA Ravine
10-Nov Chicago, IL Sound-Bar
15-Nov Denver, CO Beta Nightclub
16-Nov Portland, OR 45 East
17-Nov Seattle, WA Foundation Nightclub
21-Nov San Francisco, CA 1015
23-Nov San Bernardino, CA Dreamstate Socal
24-Nov Calgary, AB The Palace
30-Nov Vancouver, BC Celebrities Nightclub
01-Dec Dallas, TX Stereo Live
07-Dec New York, NYC Avant Gardner – Great Hall