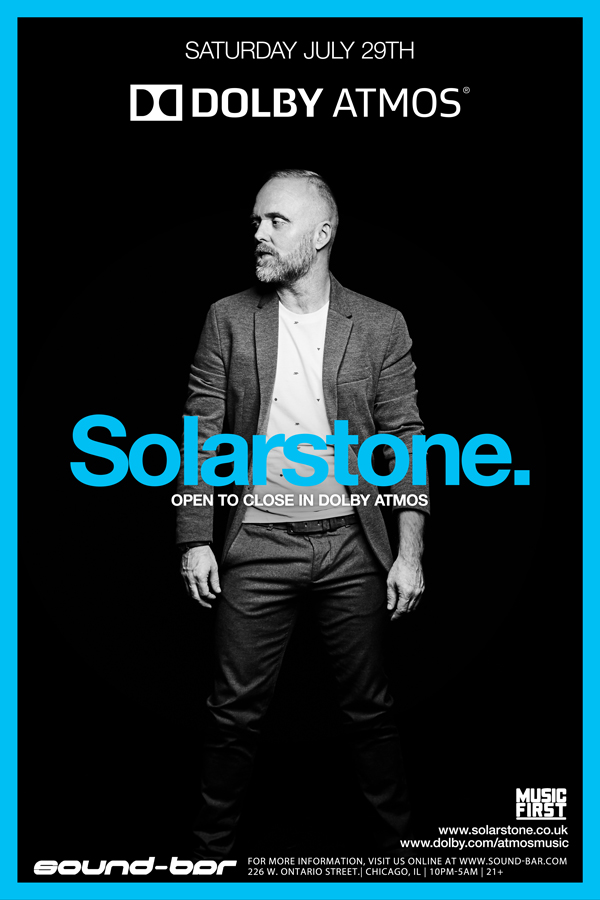 Solarstone in Dolby ATMOS
:: Sat, Jul 29 ::
Table Reservations
View Floorplan
RSVP
---
*Note: All reservations must be received prior to doors opening on day of the event to ensure response time. Limited availability.
---
*Note: All guest list must be received by 8:30pm day of the event.
---
Saturday July 29th!
$20 general admission. Advance tickets are STRONGLY recommended at available at https://goo.gl/GGU3gV
RSVP for FREE ADMISSION before 11pm. RSVP admission is not guaranteed and early arrival is STRONGLY RECOMMENDED to take advantage.
Solarstone returns to Chicago, for an open to close, in the North American debut for Dolby ATMOS in Music!
Dolby Atmos® is changing the way music is heard, blowing away stereo with music that moves, soundscapes that electrify, and artists making music like you've never heard before.
Music That Moves
Music has been stuck in stereo for decades. But that's all changing with sounds that are free to move throughout the room.
Soundscapes That Electrify
Music clarity has been hampered by the compression of sound necessary for delivery over only two channels. Dolby Atmos lets artists separate sound and add openness for details and nuances that energize the music.
Artists Pushing Boundaries
When artists get to mix in Dolby Atmos, they unlock a dimension of music creation that's completely new. They are creating music with depth and texture not possible before.