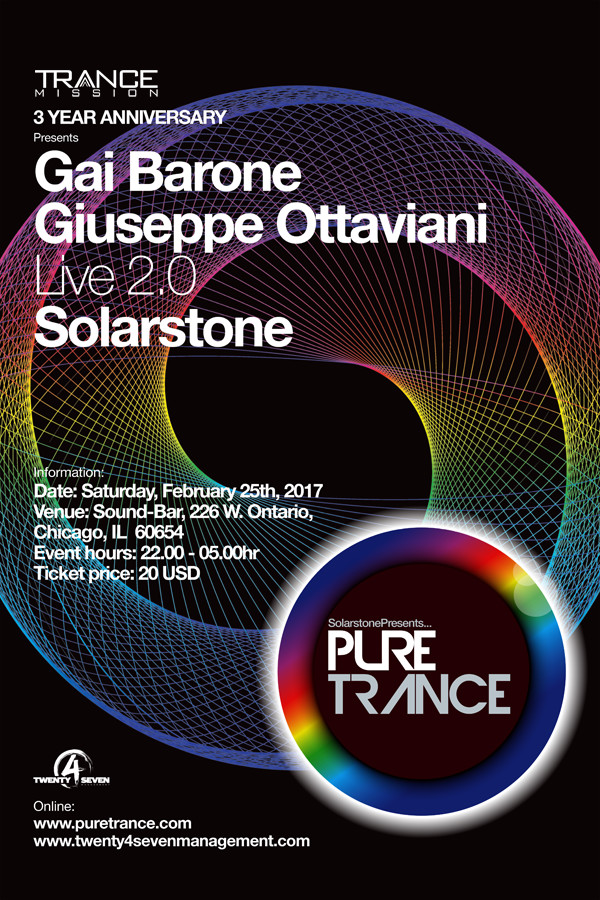 Trancemission 3 Year Anniversary and SOLARSTONE presents PURE TRANCE w/ Gai Barone, Giuseppe Ottaviani, and Solarstone
:: Sat, Feb 25 ::
Table Reservations
View Floorplan
RSVP
Buy Tickets
---
*Note: All reservations must be received prior to doors opening on day of the event to ensure response time. Limited availability.
---
*Note: All guest list must be received by 8:30pm day of the event.
---
Saturday, February 25th!
What better way to ring in the trance movement that has taken Chicago by storm the last 3 years than with the artists who kicked things off back in February 2014, Solarstone and Giuseppe Ottaviani! They bring along with them, progressive powerhouse, Gai Barone, making his Chicago debut!
$20 Admission Fee, RSVP for no cover before 11:30pm. Advance tickets are strongly encouraged at https://goo.gl/HjMfpu
Solarstone
" 'Pure Trance' is a feeling, a passion which exists outside of contemporary musical fads and fashions. It is the bringing together of millions of fans for whom this music is a way of life." – Solarstone
From scene founding father to, of-late, initiator and flag-bearer for the Pure Trance movement, Solarstone's enduring influence spans the near length of the genre's history. Having championed the true nature of trance music from his very first release, the last 24 months have seen Solarstone drive its sound, almost singlehandedly, back up to the top of the genre's agenda. Through his #PureTrance gospel – modernizing the genre's heart, whilst maintaining its soul – he captured the mood of the scene with zeitgeist timing. Solarstone's Pure Trance concept has subsequently spun off into a mix-comp series, Pure Trance shows worldwide (including electronic music capitals like Miami, Ibiza & Amsterdam) and most recently the Pure Trance Recordings label.
Solarstone has long brought his sound to some of the most famous clubs, arenas and festivals on the planet. Most recently those have included Global Gathering, Cream Ibiza, A State Of Trance and Tomorrowland in Europe, whilst further afield he's rocked TomorrowWorld, Stereosonic, FSOE & numerous others. With 'RainStarsEternal', 'Touchstone' and most recently 'Pure', he's released a trilogy of critically acclaimed artist albums, whilst releases from Solarstone's manifold label projects (Touchstone Recordings and Molecule among them) continue to provide the foundation blocks of his inimitable sets. Solaris International – his weekly radio show – enjoys a die-hard fan-base and is now broadcast across some 50 + FM & Internet stations. In October of 2013, off the back of the Pure Trance wave, Solarstone re-entered DJ Mag's list of the planet's Top 100 DJs.
Giuseppe Ottaviani
Personifying trance music's energy in both approach and output, Italy's Giuseppe Ottaviani has long been recognized as one of the genre's most respected and prolific merchants. From his earliest studio work (as the engine behind famed group NU NRG), through to his latter-day releases under his own name, he has established himself as a benchmark for eminent trance. Over the last 6 years his boundary-breaking in-concert experience Giuseppe Ottaviani Live! has put hundreds of thousands of hands in the air and feet on the floor at the world's best-known EDM festivals. Exclusively feeding these performances is his vast litany of club hits and remixes, of which 'Ready', 'Angel', 'Linking People', 'Through Your Eyes' and 'No More Alone' are but a few. Giuseppe's remains both contemporary and omnipresent in the scene with of-late productions like 'Falcons', 'Arcobaleno' and most recently 'Lost For Words', 'Earth Beat' and 'Love Will Bring It All Around' continuing to win trance hearts and minds. 2013 saw Ottaviani release his 2nd artist album 'Magenta to critical acclaim as well as performing across the globe at some of the worlds biggest and best clubs and festivals.
Gai Barone
Italy's Gai Barone has rightfully earned his place leading figures in the progressive house and trance scene. His passion for all kinds of music has seen him score hits across progressive, techno, trance… supported by industry giants like Apparat, Above & Beyond, Nick Warren, Armin Van Buuren, Solarstone, Gabriel and Dresden, Paul Van Dyk, Max Graham… DJing since the 90's, Barone's sound has moved with the times, yet firmly stayed within the underground. First hitting the big time with 'Lilith' on Afterglow in 2008, he's made appearances on some of the world's biggest imprints, including Coldharbour, Hope Recordings, Perfecto, Armada… remixing the likes of Markus Schultz, Jim Rivers, Andy Moor, Cid Inc, Evren Ulusoy… Barone's ascent continued, with hits from original productions like 'Mr Slade', 'Voices Inside my Head', 'Alicudi'; and remixes 'Grube and Hovsepian', 'Trickster', 'Danilo Ercole – Player One', 'Ruben De Ronde – They are not you', 'Triucid – Syntax', 'Corderoy – Kerosene'… And with preparations underway for his first studio album and a string of high profile remixes in the pipeline, 2014 looks set to be his biggest year yet; with the prolific Italian promising, his best is yet to come! Catch Gai's weekly show 'Patterns' Wednesday's @ 17.00 CET on di.fmhttp://www.di.fm/calendar/event/35922 ;