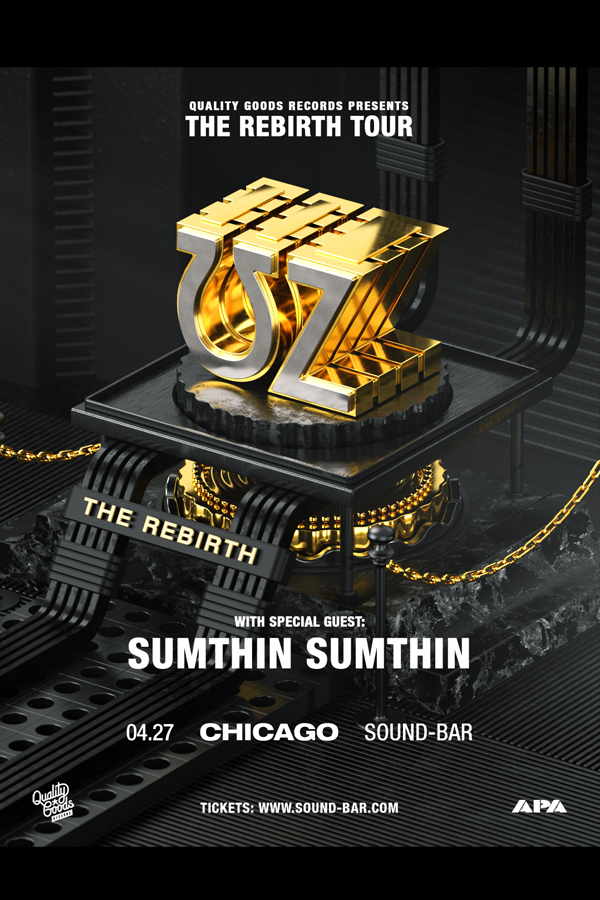 UZ w/ Sumthin Sumthin
:: Fri, Apr 27 ::
Table Reservations
View Floorplan
RSVP
Buy Tickets
---
*Note: All reservations must be received prior to doors opening on day of the event to ensure response time. Limited availability.
---
*Note: All guest list must be received by 8:30pm day of the event.
---
Saturday April 27th!
Sound-Bar is proud to present the main room debut of TRVP LORD, UZ, along with Sumthin Sumthin
Door admission is $20. Advance tickets are strongly encouraged and available at https://goo.gl/g1BxJm
RSVP for free admission before 11pm.
Something of a man of mystery, UZ emerged into the world of constantly evolving bass music back in 2012, and his intense musical creativity has kept fans guessing ever since. Widely considered one of the founding fathers of the floor-shattering trap sound that has taken the world by storm, UZ's innovative approach to production and impeccable reputation as a tastemaker has kept him on top of the pile for the past five years.
2017 is possibly set to be the biggest year to date for this artist, having built such a tangible platform for himself over the past couple of years, both as a DJ and producer. Reaching five full years in the game this April, a giveaway of material from 2012-2015 hit well over 600,000 downloads – showing the consistent demand for fresh "Trap Shit" sounds, including the series of 25 tracks that fell under the same name. The likes of SPIN, Complex, Billboard and Hypetrak have offered their full support since the start, pushing his vision to a wider audience. UZ counts official remixes for the likes of Flosstradamus, Zeds Dead, 12th planet, Birdy Nam Nam, Ice Cube, Elliphant, GIA, Alvin Risk and DJ Shadow in his arsenal, whilst in 2013 he was commissioned to make a very special mixtape for Red Bull Academy.
UZ's touring schedule continues to take him across the globe several times over, appearing in Australia, Canada, Asia, Europe, South America and South Africa. Representing bass music at its finest, he is increasingly in demand from international festivals such as Coachella, Sonar, Ultra, Stereosonic and EDC.
2016 saw the start of a thrilling chapter, with UZ beginning his trap-influenced record label Quality Goods Records in April. Hand selecting the most exhilarating new music and artists, the inaugural release came from the label head himself in the form of "Magellan" EP. Other works include the UZ & Myrne remix of "Trapshit 16," "Amazon" from Mayhem and UZ and a remix EP of the brilliantly received "Magellan." QGR is just getting started, and as with UZ, the best is yet to come…