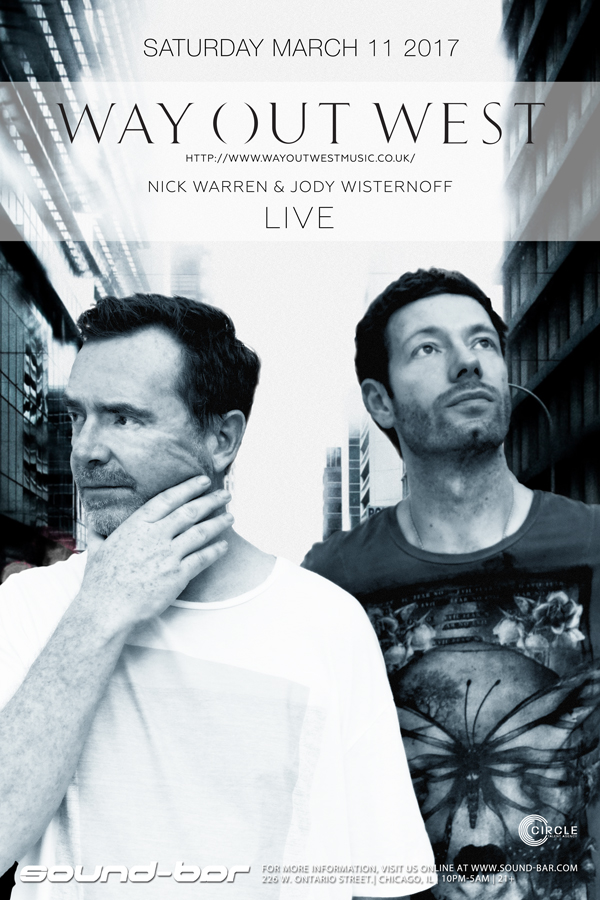 Way Out West (Nick Warren & Jody Wisternoff) LIVE
:: Sat, Mar 11 ::
Table Reservations
View Floorplan
RSVP
Buy Tickets
---
*Note: All reservations must be received prior to doors opening on day of the event to ensure response time. Limited availability.
---
*Note: All guest list must be received by 8:30pm day of the event.
---
Saturday, March 11th
Sound-Bar Presents Way Out West LIVE!
$20 General Admission, RSVP for Free Cover before 11:30pm. Advance tickets are strongly encouraged at https://goo.gl/X4xlyM
After a hiatus of several years, dance music pioneers Nick Warren and Jody Wisternoff return in 2015 with a fifth studio album and spectacular live show as WAY OUT WEST. Their 20 year collaborative love affair has spawned such classic killer tracks as 'The Gift' and in 1997 the seminal debut album 'Way Out West' was closely followed by the smashing follow up 'Intensify' in 2001. A memorable sun-kissed live show at Glastonbury in 2004 galvanised their place as true innovators and performers and their body of original work and remixes have been coveted but electronica lovers across the globe. In 2009 the much lauded 'We Love Machine' album was born and break through tracks 'MindCircus' and 'Anything But You' showed a diversity of their productions and ability to orchestrate with live vocalists and musicians. Whether trance, progressive, tech or nu-disco the WAY OUT WEST sound is distinct and timeless and after the wait we have an exclusive first UK live show at Lost Dawn which promises to be the launch pad of a great album and one epic summer of shows from the Bristol based duo