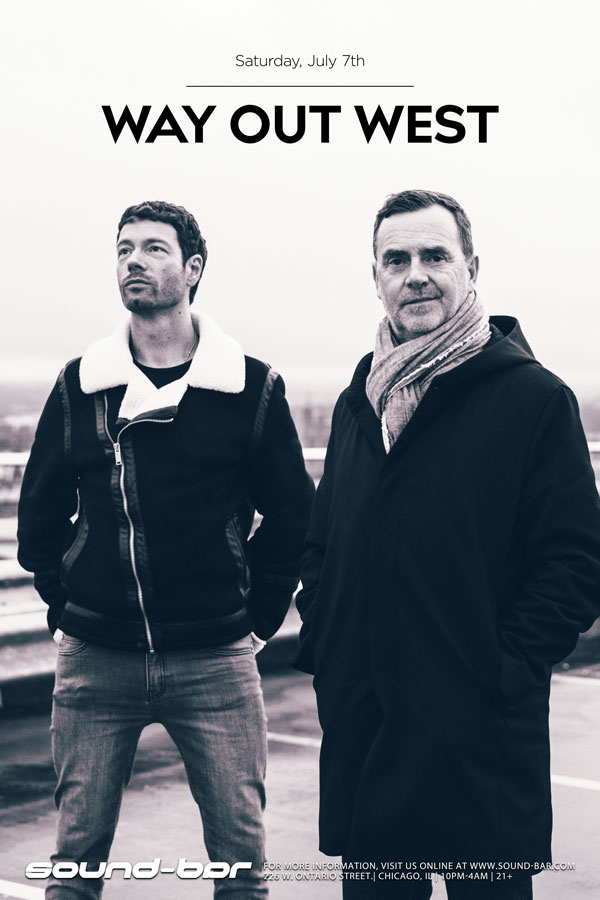 Way Out West (Nick Warren and Jody Wisternoff)
:: Sat, Jul 07 ::
Table Reservations
View Floorplan
RSVP
Buy Tickets
---
*Note: All reservations must be received prior to doors opening on day of the event to ensure response time. Limited availability.
---
*Note: All guest list must be received by 8:30pm day of the event.
---
Saturday July 7th!
Sound-Bar is proud to welcome back, legendary progressive artists, Nick Warren and Jody Wisternoff as WAY OUT WEST!
Door cover is $20. Advance tickets are strongly encouraged and available at https://goo.gl/QapguL
RSVP for free admission before 11pm
Conspicuous from the rest of Bristol's electronica scene in the '90s by the absence of trip-hop or jungle leanings in their productions, Way Out West instead pursued straight-ahead house and trance with closer ties to progressive British dancefloors than American hip-hop. The duo of Jody Wisternoff and Nick Warren first came together in the mid-'90s. Wisternoff was a veteran producer who had first recorded at the age of 14 (with fellow Bristolian house artists Smith & Mighty), while Warren was a high-profile Balearic DJ and club-night promoter influenced by the sounds of Madchester. The duo began recording together, and by 1996 their single "The Gift" had become a big mover on dancefloors and the radio as well, thanks to a British advert that used the song. Signed to Deconstruction, Way Out West released their self-titled debut album in 1997. A change of venue, to Distinct'ive, preceded the release of 2001's Intensify, and after a three-year interim the duo followed that with the like-minded Don't Look Now. With Warren meanwhile releasing numerous mix compilations, many of them for Global Underground, Way Out West returned in 2009 with We Love Machine. Featuring contributors such as Scuba, Jaytech, and D. Ramirez, We Love Machine: The Remixes followed on Hope Recordings a year later. Wisternoff released the solo album Trails We Blaze on Anjunadeep in 2012 and went on to mix several installments of the label's popular compilation series. Anjunadeep also issued the Way Out West singles "Tuesday Maybe" and "Set My Mind" in 2016. With guest appearances by Doe Paoro and Liu Bei, the duo's fifth LP, Tuesday Maybe, arrived in June 2017 and was accompanied by a performance at the Glastonbury Festival. Since then, the band have embarked on a UK tour, released their Tuesday Maybe (Remixed) album, and prepared a legion of new music to release throughout 2018 – and, with more new projects in the pipeline for the next year, it's safe to say that there's never been a more exciting time to be a Way Out West fan.