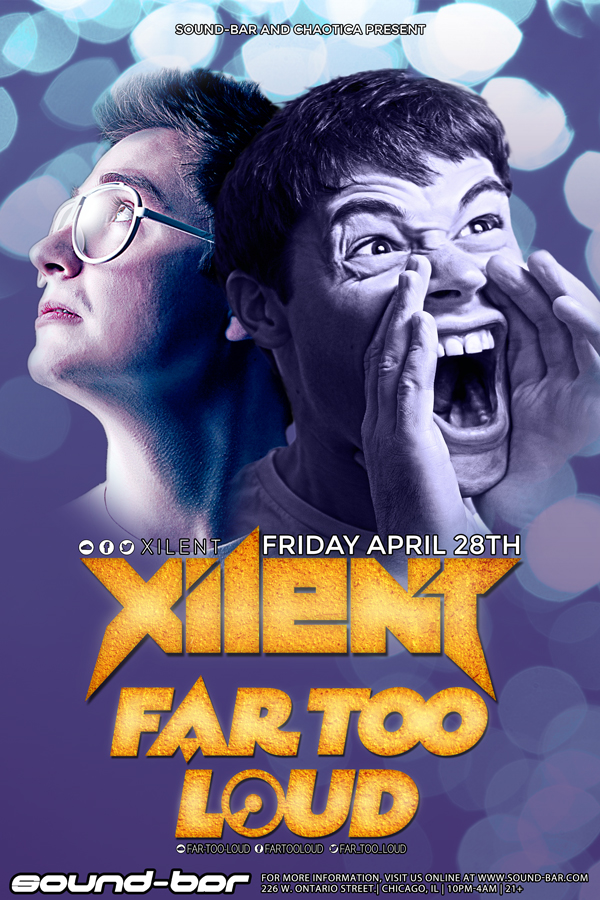 Xilent | Far Too Loud
:: Fri, Apr 28 ::
Table Reservations
View Floorplan
RSVP
Buy Tickets
---
*Note: All reservations must be received prior to doors opening on day of the event to ensure response time. Limited availability.
---
*Note: All guest list must be received by 8:30pm day of the event.
---
Friday, April 28th!
Sound-Bar is proud to welcome Xilent & Far Too Loud!
$20 cover. Advance tickets are strongly encouraged at http://bit.ly/SBXilentFTL   RSVP for free cover by 11:30pm
Xilent (born Eryk Kowalczyk) is an electronic music producer residing in UK. He is best known for his track "Choose Me II", released on May 16, 2011, which peaked at #1 spot on Beatport's Dubstep chart and remained in the Top 5 for 3 months. The track was also selected as Zane Lowe's "Next Hype" track on BBC Radio 1. As of recent, he is also best known for "Boss Wave", which, among other nominations, earned him the BMA "Best Music Video" award in 2013. In 2014, Xilent has announced a full length debut album, which will be a "journey through a full spectrum of genres [he] has worked on so far".
Far Too Loud, a.k.a. Oli Cash, has gained a reputation for hi-tech, dancefloor-destroying music that makes people throw their hands in the air and go crazy. Think high-energy, aggressive funk, big basslines, crazy edits, intricate production and you'll know the sound.
Since his first release back in 2005, things have gone ever upward. Winning 'Best Single' at the Breakspoll Awards in 2007 was a huge boost early on. Later that year the FTL anthem 'Play It Loud', which saw a move from breakbeat to dirty electro-house, received a massive response and remains a firm crowd-pleaser to this day. Subsequent chart-smashers including 'Bring Back Boogie' and 'Megaloud', and remixes for the likes of Lily Allen and The Crystal Method confirmed Far Too Loud's place among the big guns of electro-house.
The multi-genre releases of 2012's 'Firestorm' EP and the follow-up 'Faster Than Light' EP received high praise from all over the bass music scene, bursting with the now familiar big production and energy. More recent times have seen releases on heavyweight labels including OWSLA, Never Say Die and Monstercat, and remixes for bass-lords Zomboy, Snails and Pegboard Nerds. Having just celebrated 100k followers on both Facebook and Soundcloud with some killer free downloads and with new releases and global touring locked in, the stage is set for 2015 to be another big year.
Well experienced in delivering unique sets packed with energy, whether it's 200 people in a sweaty underground club or 20,000 at an outdoor festival, you can be sure it's going to go off when FTL is in control!