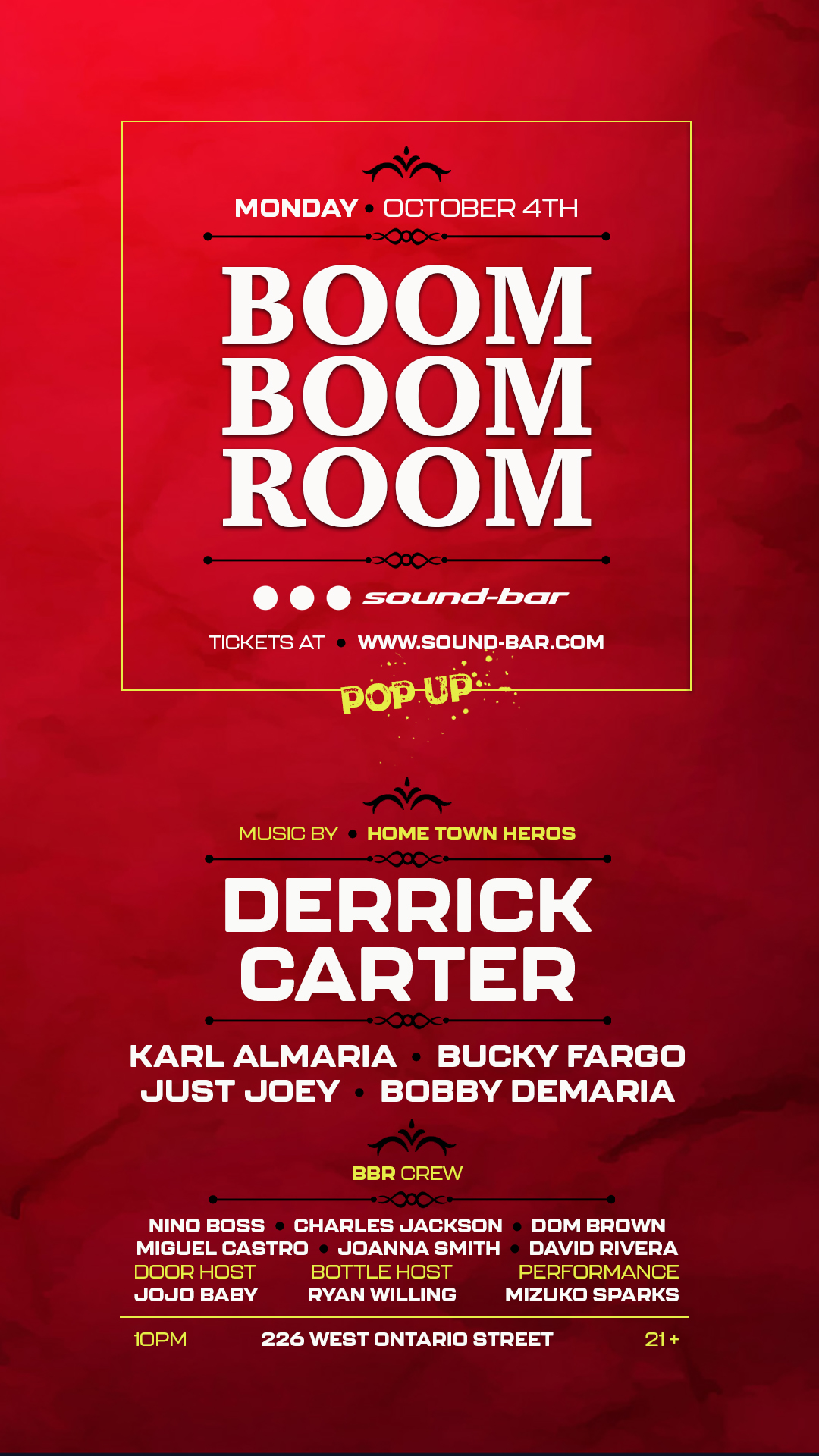 DERRICK CARTER | Boom Boom Room
:: Mon, Oct 04 ::
Table Reservations
View Floorplan
RSVP
Buy Tickets
---
*Note: All reservations must be received prior to doors opening on day of the event to ensure response time. Limited availability.
---
*Note: All guest list must be received by 8:30pm day of the event.
---
Monday, October 4th, 2021
BOOM BOOM ROOM | POP UP

"You are cordially invited to experience the longest running and single most famous dance party in Chicago once again, popping up at Sound-Bar!"
Music by
DERRICK CARTER
Along With
Karl Almaria
Bucky Fargo
Just Joey
Bobby DeMaria
Door Host JOJO BABY
Performance MIZUKO SPARKS
BBR Crew
Nino Boss, Charles Jackson, Dom Brown, Miguel Castro, Joanna Smith, David Rivera and Ryan Willing.
"Support Chicago House Music! …and this historic Monday night Dance Party!"
*** Table Reservations available.  For pricing information email sol@sound-bar.com 
Sound-Bar is a strictly 21+ venue.
***Come dressed to impress
"Since 1991, the Boom Boom Room Monday night has been a staple in Chicago nightlife, gathering people from all ethnic and social backgrounds, reaching each city point, for a weekly ritual of dance and pageantry.  
For the last 30 years Boom Boom Room has inspired even the most savvy of club-goers, revealing the relationship Chicago has with dance music and the people who love it most."
***RSVP GUESTLIST
$5 OFF General Admission price at the door.
NOTE : Cheaper to purchase a Presale Ticket