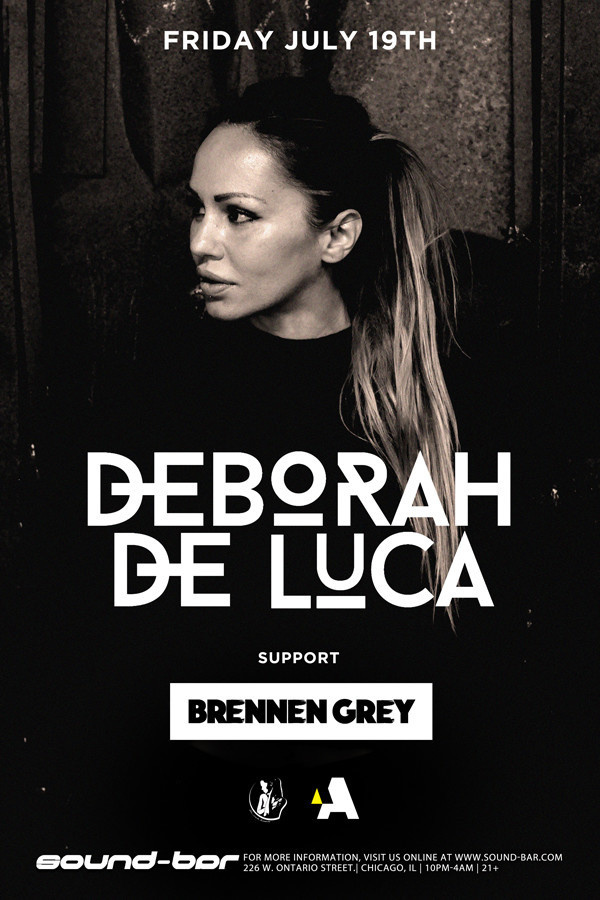 Deborah De Luca with Brennen Grey
:: Fri, Jul 19 ::
Table Reservations
View Floorplan
Buy Tickets
---
*Note: All reservations must be received prior to doors opening on day of the event to ensure response time. Limited availability.
---
*Note: All guest list must be received by 8:30pm day of the event.
---
Friday July 19th!
Sound-Bar is proud to present the Chicago debut of one of the leading females in techno, Deborah de Luca! On support for this is Brennen Grey w/ local support by Hiroko Yamamura.
Door admission is $20. Advance tickets are strongly encouraged and available at http://soundbar.uvtix.com/event/uv1609432840dt190719rm0/deborah-de-luca-w-brennen-grey/
Born under the shade of the sails of Scampia, difficult neighborhood at the periphery of Naples. Born in 1980, she embarked on a career in the music world working very hard , starting as a waitress in many clubs and then as a dancer for several years.
When she was a teenager she moved to Northern Italy for the high school, started a route into the world of fashion industry studying to become a fashion designer, but soon she understands that his path was in a completely different direction, enthusiasm for the night life in the local gave her the right reason to start a journey that now counts a lot of people who appreciate her , first of all for her talent.
Came back soon to live in her hometown, Naples, she met Giuseppe Cennamo, DJ and producer from Naples (Desolat – Sci + Tech – 8bit – Carillon), who led Deborah to work on her knowledge into new music genres and trends, giving shape to a charisma that immediately has worked hard with productions signed by her as Sola_mente Records label founded in March 2013 , which today relies on collaborators such as Dj Simi and Giorgio Rusconi.
Her tracks also found positive results in well-known names in the world of DJing, as Magda , Dj Ralf, Someone Else and Layo & Buswaka. Her music in a few years, became a high quality brand, a good fusion of hard techno and minimal sounds without ever being common . All of this is synonymous with passion and strong personality.
Today, Deborah De Luca plays in many clubs all over the world: France, Spain, Portugal, Italy, Greece, Turkey, Switzerland, Germany, Morocco, Slovenia, Malaysia, Indonesia, Armenia, Russia,America and continues to produce always fresh and innovative music , although she doesn't belong to any musical trend , but conciliates always different tastes.